Social Media Marketing Strategy for 2021
June 7, 2021

Are you looking for the best social media marketing strategy for your business?
You are at the right place. We put a complete strategy to building a perfect social media marketing agency.
If you are totally new to social media marketing or want to double-check your preference in 2021. This blog will help you in further understanding.
Set suitable goals for your business:
What do you want from your social media?
Start your social media planning with your business goals.
What are really matters to set your social media goals?
What are the social media goals?
May your goal is to build a community to get more followers or drive more revenue through your social media accounts.
Keep reading in depth to understand social media goal:
To create genuine and permanent brand awareness, try to avoid single material promotional messages. Focus on content that highlights your business identity and values.
Catching new followers means finding the best ways to introduce your brand to those who have never heard of you before.
Growing your audience means you need to work on specific keywords, phrases or hashtags. These things help you to reach your core audience much faster.
Analyze the ways to catch the attention of your real followers. Grab your current followers attenuation by messaging and content. Even sometimes as simple as asking a question can increase your engagement rate.
Social media can generate leads or traffic to your website. With the help of social media you can define your ROI by conversions and URL clicks.
These all goals determine which networks to tackle for social media marketing.
Give time for study to your target audience: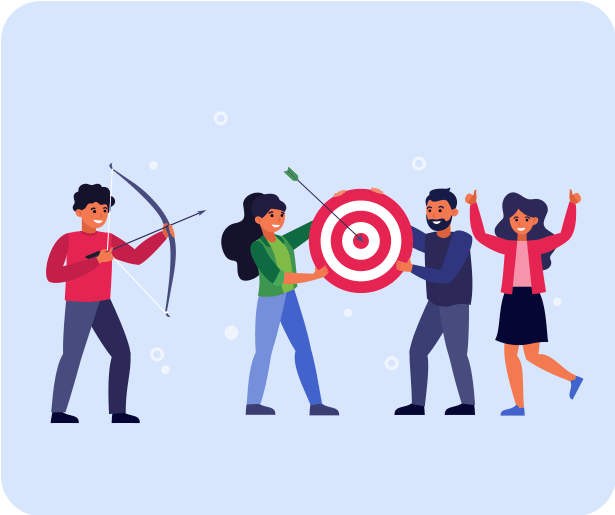 Doing work with supposition is creating a negative impact on your business. Social media marketing strategy already knows where to look for your targeting audience.
A recent survey of 100 business executives, 75% are currently using social media as a source of data. They also use social media as insight to inform their agency's business decisions.
Facebook and Youtube are both high authority places for their high earning user bases. Pinterest is more famous among women.
Instagram and TikTok are strengths of bold and breathtaking content. LinkedIn is a hub for industry and specific content.
Spread your brand on networks where your real audience is already active.
Use strategy on your existing social media audience:
Above all demographic data gives you insight into each channel. First define what your real audience actually looks like and do analytics on data.
Many brands use social media dashboard for overview of interaction and who's following you.
Our analytics dashboard puts your demographics in front and center. It also asserts which social media are seeing the most activities.
Set up your important metrics and KPIs:
Your social media strategy should be based on the data. This means focus on social media metrics which matter most.
Your social media post should reach the numbers of special users who see your post.
Tracking clicks per campaign is important to understand what drives quality or encourages the audience to buy.
Customer engagement lights on well your audience knows you and their state to interact.
Organic engagement is hard to gain traction, that's why many brands turn to ads. This will help you budget both your time and ad spend.
Build engaging social media content:
Your social media marketing strategy fully depends on your content. On this step you have a chance to publish goal based content and brand identity.
On social media posts this is very important to sticking on content themes . These themes can help to become more stable.
Stories and time-sensitive post content are magnetic for the audience. Stories base content is interactive and can't be missed by our users.
Social video is booming, especially with the growth of TikTok and recent launch of Instagram Reels. Long-form and short-form productions continue to control the social space.
Mainly important as rise from COVID-19, both personal and personable content should be core of your social media marketing strategy.
Customers expect speedy responses for brands and useful conversion on time.
Through social media, you can increase respect as a brand by being able and talking to your customers.
Analyzing your social media efforts timely to know how one campaign did over another.
Wrap Up:
This blog highlights that there are informal moves to a modern social media presence.
If you set performance goals and address each of the steps above mentioned, you will already be a step ahead of social media marketing strategy.
And partner with Acadot Media to get more inspiration for actionable methods to grow your strategy today!