Why Needs to Hire an Affiliate Marketing Agency?
May 24, 2021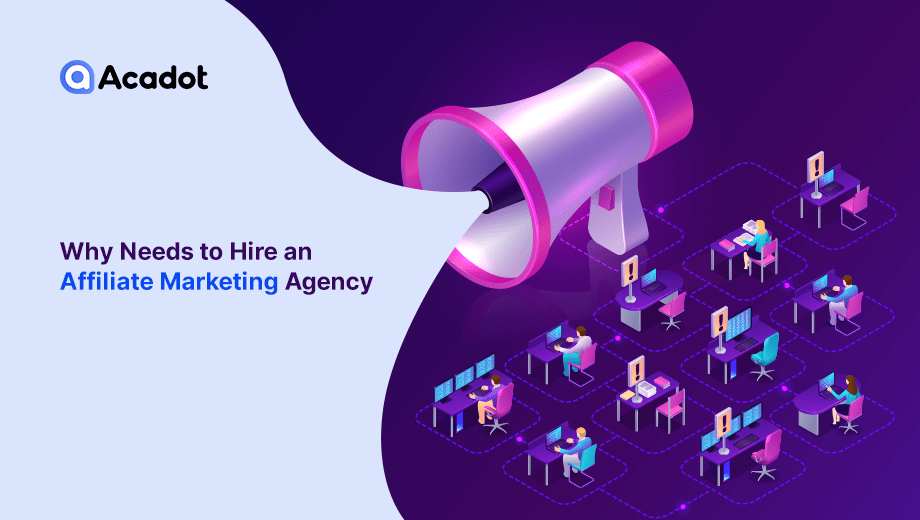 If you're a small start-up or a superior brand, placing your services or product in front of the right audiences is key to growing your business.
This's the stage where your business needs affiliate marketing comes in.
if you really want to increase your business with our Affiliate marketing agency, keep reading.
In this article, we are going to answering the problematic questions of new businesses and existing brands wants to know:
Why I did need to hire an affiliate marketing agency?
What will do an Affiliate Marketing Agency for my business?
Let's start with a small summary of how does affiliate marketing actually works on our business.
If your company has a product or a service to sell. you will pay a small fee to a publisher to advertise your product or service. A consumer on the publisher's website views the promotion, clicks on it, and makes a purchase. The publisher then gets a percentage of the sale that they run to your company's site.So now,
How does our agency take part into this process?
Our agency connects a brand to the publishers and the affiliate partners' best offer to drive traffic to your business's website and, successively increase your product or service sales.
How does our affiliate marketing agency help your brand?
Our agency has a number of unique ways:
Acadot Media has huge connections groups which we use in our industry to determine the best affiliates for your brands. We are also working with several clients in various sectors, so we can offer a wealth of experiences.
We are holding the solutions keys to complex issues like incremental effect, accessions, and the wroth of particular publishers. In many cases, that might even incorporate knowledge about some of your direct competitors.
Our affiliate marketing agency has all access to content creators, digital marketing influencers, and creative forms partnerships. This allows us to make clear and focused marketing solutions for our special brands and provide to your specific needs.
We work with a comprehensive network of publishers and affiliates and manage millions of dollars in advertising expend, there's one other biggest advantage to your brand: our team able to bargain lower or more good commissions than another once. But that's not all.
our agency has advance tools and technological software to measure your KPIs. And insight those key performance indexes play a significant role in the overall success of your affiliate campaign. A good agency like us can also offer various marketing strategies to manage your existing affiliate campaigns.
What to take care of when choosing the best affiliate marketing agency?
Our agency works with clients in your industry and realize your key statistical and audience. observe the clients with us currently work with. u will find advanced features and methods. It's important for you that we have a track record with other brands and businesses whose focus arranges with your own.
You can analyze our both side and check that we have the same goals in mind for you too. Some agencies have a standard for success to deliver some percentage month over month revenue. Others measure success by delivering in a certain amount per month. you are independent to decide how you want to measure your own business growth with us.
our special management team available 24/7 to provide you desired level of analysis and supports for your affiliate program to achieve high growth. Our affiliate marketing agency will devote an entire team to your account alone. while others may only provide one or two account managers that handle lots of accounts at the same time.
FAQ Before Hiring an Affiliate Marketing Agency?
Before you hire an affiliate marketing agency for (OPM) Outsourced Program Management, examine these questions to define if they are the right partner for you.
1.How large are the programs you manage?
you will get a better idea of who they are currently working for. and you can also confirm that they have or haven't expertise experience with large companies, brands, small businesses, and high growth start-ups.
2.How will you handle any potential challenges of affiliate programs?
There are advantages and downsides to hiring an affiliate marketing agency that works with your competitors. be sure you understand how they'll address this if the issue come-up.
3.How familiar are you with an agency that my business is working with?
Make sure that an agency is familiar with your current affiliate programs. If they are thinking to launch your program on another network or platform, ask how familiar they are with that network or platform.
4.What will the first 90 days of working with your agency appear?
A successful agency will provide you with a 90-day plan, clearly setting out a successful track for your affiliate program as you launch your engagement.
5.Can I behold some of your past work?
Some of agencies may show you their work of affiliate marketing campaigns they've done with previous clients, others may not.
To be sure you're hiring the right agency, search case studies or online reviews that to the quality of their work and expertise experience.
6.Where are your account management teams located?
It's always glad to know if your account manager or account team will be working in house or remotely. Acadot media has built incredible success managing complex affiliate campaigns by staffing their account teams in-house in the same office.
Above given all questions and answers to analyze for before hire an agency for your business and it will help you to take right decision in future.
Do I Need to Hire an Affiliate Marketing Agency for my business?
The sweetest answer is, YES. To know why?
Advantage of hiring an affiliate marketing agency:
Effective use of advertising budget
Easy tracking
Grow brand awareness
Access foreign markets
Low cost of start-up
Low risk
Targeted traffic
Flexibility
High ROI
Affiliate marketing continuously to grow year after year. If you aren't already working with affiliate agency, it's time to start.
And if you aspire to grow your business through the right affiliate channels and agencies, it's time to hire an agency.